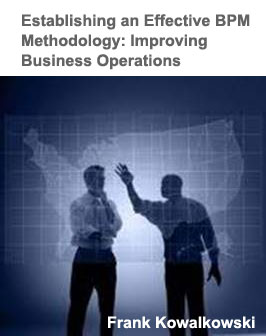 The Five Stage BPM Approach to Process Transformation Success: Improving Business Operations
Forthcoming Book by Frank Kowalkowski
Why another book on BPM? There certainly are a lot of them out there. However, many of them deal with managing a BPM project, diagramming process flows and organizing a BPM project. Indirectly they may provide some systematic approach based on a tool or on projects the author was involved with. No one book appears to define a tool independent staged approach to process transformation with analytics for process renovation and management.

This book is directly based on a 5 stage methodology based on experience with a number of BPM projects over many years. Methodologies, tools and techniques, especially current analytics, have evolved over the last 10 years that make the effort easier and more applicable to transformation. With the fast moving current history of BPM, a book that pulls the current ideas together is useful for the many BPM practitioners today.

Due First Quarter of 2017.
Category: Featured