Certifications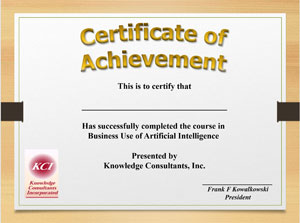 Certifications are a particularly unbiased barometer of your employee's skills. Exam-based certifications clearly identify the body of knowledge achieved by an individual. Certification raise your confidence level when you need to move to newer technologies that the staff is ready for the challenge. Through the specific certification approach, KCI focuses on those bodies of knowledge needed not only today but also in the future business environment.
Why certify your employees?
Certification allows your employees to show their value. You know their skills are up to date, ready to take on the next role or project. They have proven they are willing to learn new things and are prepared to take on your next challenge. They make the effort to evaluate their skill and upgrade them where necessary.
Certifications are also an inexpensive way to show proof that they are keeping their expertise current and up to date. By becoming certified, they are passing the industry's measurement of knowledge based on clear assessments of the role.
How KCI certifies your employees
At KCI, we develop the skills and methods your business requires by creating and delivering the business specific education you need. To ensure your employee or team has the an understanding of a body of knowledge, a minimum of three (3) or four (4) examined courses are required for certification in any area. Custom or multi-disciplinary certification that includes combinations of courses from different disciplines is also available.
Those courses marked with an '*' are required for certification in a particular discipline. Three or four courses are usually required for basic understanding of a discipline. One or two courses are then used as electives for an area of interest. KCI courses also includes several 'Hands On' versions course material.