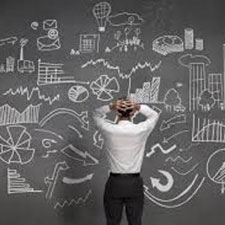 Enterprise performance management consists of a set of management disciplines that incorporate various managerial and analytic processes, supported by technology. By taking an integrated perspective on managing and monitoring the enterprise's performance, value is achieved and benefits are realized.

Productivity is best improved by understanding processes including their enablers, their context, and the roles of the individuals who execute them. The whole idea is to improve productivity on 3 levels: Enterprise Productivity, Process Productivity, and Individual Productivity. Strategy maps for example are a key linkage between strategy and execution, linking these 3 perspectives together. This approach enables the business to define its strategic goals, then, measure and monitor the business' performance against those goals.

Additionally businesses can use concepts like value chain, business architecture, enterprise architecture, SWOT analysis, PESTLE and many other management models (there are over 65 of these) to flesh out the details of the direction management wants to pursue..

With KCI's educational offerings in Business Performance Management, you'll become knowledgeable about these techniques, but more importantly, learn when and how to apply them to your business.