Productivity is best improved by focusing on processes, their enablers, their context and the individual. This is best illustrated by Geary Rummler and Alan Brache, the authors of "Improving Performance: How to Manage the White Space in the Organization Chart". They emphasize the need for an integrated perspective on managing and monitoring the enterprises' performance. Enterprise performance management consists of a set of management disciplines that incorporate various managerial and analytic processes, supported by technology. The whole idea is to improve productivity on 3 levels.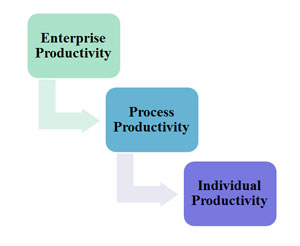 Enterprise productivity has many components and layers of focus depending on the structure of the organization such as

Corporate, Operating Group, Operating unit, Division, Department etc.
Understanding the relationship between these vertically and horizontally
Productivity is analyzed on all of these levels usually using architecture techniques by default or with intent.

Process productivity is the result of basic throughput analysis…

The number of things per unit time through the process
The established goals of the process performance
The relationship of those goals to the strategic level of performance
This productivity improvement is usually done with BPM methods, techniques, innovations and tools

Individual productivity is based on the expected level compared to the actual level and as such may be expressed as a percentage and used with control lines

This approach is focused on the tools, personality, capability and skills of the individual
This productivity improvement is usually done with team and individual training
This approach enables the business to define its strategic goals, then, measure and monitor the business' performance against those goals. Much of this framework was influenced by the classic 1992 by Robert S. Kaplan and David P. Norton, "The Balanced Scorecard: Measures that Drive Performance" in the Harvard Business Review.
Additionally they can use concepts like value chain, business architecture, enterprise architecture, SWOT analysis, PESTLE and many other management models (there are over 65 of these) to flesh out the details of the direction management wants to pursue.
Performance Resources
Performance Professional Education