Successful Process Execution Means Goal Achievement
Why can't companies achieve the improvement that they read about in articles and see in presentations?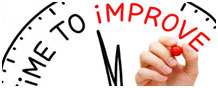 Studies have shown that 75% of process projects fail in some way. What is it that BPM professionals know about improvement that companies are missing? The core reason for the company shortfall is that people don't know what techniques, methods and tools are available and how to apply them in their situations.
Better techniques of process management have emerged over the last 20 years that have practical and established implementation approaches.

Processes are critical to business transformation and execution today. Accurately representing a process is critical to realizing the expectations of management when processes are implemented. Before you can accurately represent the process you need to address and analyze performance and improvement issues. Skill in these three core needs form the basis of enterprise transformation, integration or consolidation. They also form the foundation for enterprise growth through acquisitions, adding new products, e-commerce, e-government and enterprise excellence.