Real World, Theory and Application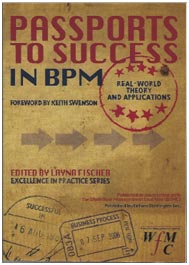 Frank Kowalkowski of KCI provided a features chapter in this book titled 'Using Analytics to Identify Process Opportunities'. In the opening paragraph under the heading of 'Process Performance and the Business Enterprise' he focuses on process performance management and improvement. Here is the opening paragraph.

Since processes are critical to business execution, process performance management and improvement have become two key aspects of BPM for improving business performance. These two key process approaches form the basis of enterprise transformation, integration and consolidation within the enterprise. They also support integration across enterprises and form the foundation for e-commerce, e-government and enterprise excellence. Organizations are good at assessing due diligence regarding financial, market and legal issues. However, studies (Michael Porter and others) show that most structural changes requiring integration fail due to operational (read process) and/or cultural incompatibilities. Both of these issues can be addressed with some core process and cultural analytics.
The book sponsored by the Workflow Management Coalition (WfMC) is in their BPM series. Copies of the book are available via Amazon or directly from Future Strategies, Inc.
To order click on one of these links