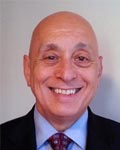 Founder & President of Rethink, Inc.
– Innovation and Project Management Consultant to Growth-Stage Startups and Enterprises - helping people think differently to innovate and advance. Len is PMP certified with a Certificate in Project Management from Boston University School of Management.
He has presented at the ProjectTalks Chicago, Project-Summit/BA World Conference, International Institute of Business Analysis Chicago, American Society of Trainers & Developers, Society for Human Resource Management, Columbia University School of Management, Cornell Club, and Asia-Pacific Executive Banking Conference.
Len's experience includes:
Healthcare - Current Procedure Terminology (CPT) Digital Transformation, Contributed to risk reduction and service delivery improvements for 75% of reviewed projects.
Financial Services & Operations - Participated as business analysts and BI team leader for SAP financial management, service to cash, procure to pay, personnel administration and BI reporting implementation for a global law firm.
Construction - Redesigned end-to-end construction project management process from site selection to completion. Establish construction management project management office (PMO) for city building commission.
Not-For-Profit - Designed a single-system solution implement in over 500 performing arts and cultural organizations worldwide.
Business Process Reengineering (BPR) Methodology Development & Education - Develop a proprietary IBM BPR method and related employee and customer training curricula.
Business Process Reengineering & Integrated Software Development - Reengineer IBM's Computer-Integrated Manufacturing (CIM) and disparate procurement systems.
enterprise-directed development. Received IBM's Systems Engineering Symposium Award from IBM Chairman and CEO.
Solution Architect/Business Reengineering Facilitator - Reengineer The Metropolitan Opera's sales and ticketing system. Create a single-system, single-repository solution integrating ticketing, fundraising, memberships, marketing, reporting, customer relationship management, web transactions and other functions including web transactions.