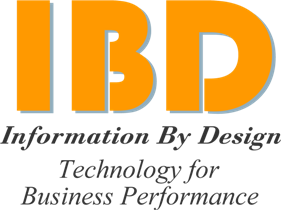 Founded in 2005 by industry veterans with a unique vision, Information By Design (IBD-us) set out to become a leading software and professional services firm focused on helping businesses use information technology more effectively.  Today, IBD offers, strong chief information officer (CIO) leadership, training, and planning services. Early on, IBD recognized the low-cost, high-value proposition that cloud based technology has for our clients. 
We recognize that software as a service (SaaS) managed business applications can be delivered via the Internet economically. These applications and others have been part of our consultative services to deliver and implement award winning, globally recognized group of partners like – QPR, M-Files, Perimeter Security, insynQ, Salesforce, Google, Reflexion, and others to deliver customer value.
IBD remains privately held by its executive management team headquartered in Granger, IN, on the outskirts of South Bend, Indiana, famous for invention, innovation, and centrally located to serve the U.S. customer base.