Course Experts (4)
KCI has various industry experienced and knowledgeable course instructors providing you with insights, tools, and techniques to improve your personal skills.
Monday, 06 February 2012 14:39
Written by
Linda Sagamang is a principal with Knowledge Consultants, Inc. and has over 25 years of engagements in Oil & Gas, legal, insurance, banking, telecommunications, and hospitality operations.
She has been an adjunct professor for over 5 years, and a frequent instructor on topics of business processes, computer systems, technical implementations, telecommunications and unified communication systems. As previous manager of technical publications and training for a large oil and gas company for over ten years, she developed the initial policies and procedures and oversaw the migration from paper-based operations standards to on-line systems. She also led the effort to create their first knowledge-base development projects. Linda is currently developing training curriculum and mentoring instructors at a large property insurance company.
Linda has earned a Bachelors degree in Business Administration. She has an extensive background in training, policies and procedures, line management and business.
Monday, 06 February 2012 14:30
Written by
Mr. Miller is a senior instructor with Knowledge Consultants, Inc. and has over 30 years of IT experience primarily in banking, securities and insurance as well as experience in retail, telecommunication and pharmaceutical industries. He started in his career computer operations, programming and systems design, and then moving on to consulting roles in enterprise architecture and business intelligence. Michael's previous consulting roles include National Director of Enterprise Architecture and Business Intelligence, Executive Consultant CRM COE, and Principal - Management Consultant.
He holds four master degrees (Business Administration, Project Management, Telecommunications Management and Information Systems Management) and has done over two years of doctoral work in Knowledge Management. He is a board member of the Data Management Association – Chicago Chapter, a Certified Business Process Management Professional (ABPMP) and a Certified TOGAF Enterprise Architect. He is presently a Global Information Architect for a major global bank.
Saturday, 28 August 2010 10:44
Written by
Andrew J. (AJ) Walters is the V.P. of Delivery Services for Information By Design, LLC.
He was an Assistant Professor of Computer and Information Technology, College of Technology, Purdue University where he taught courses in network technologies, systems integration, application development and object-oriented programming. Prior to joining the Purdue faculty, AJ. was Senior Manager of Applications Support and Integration for Honeywell Aerospace where he was responsible for applications and technology support for the Global Hardware Product Group portfolio of applications that serviced the distribution, engineering, manufacturing, and business support functional areas.
Saturday, 28 August 2010 10:27
Written by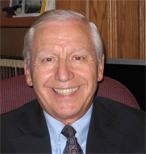 Gil Laware is CEO of Information By Design, LLC. He was formerly an Associate Professor of Computer and Information Technology in the College of Technology at Purdue University he has taught courses in internet technologies, applications and systems development, web and database management systems, object-oriented programming, and systems analysis and design methodologies. Prior to joining the Purdue faculty, Gil was an Associate Director for Fujitsu Consulting, Manager of Data Services for Whirlpool Corporation and held various managerial and consultative roles with the IBM Corporation.